JK/SK
More
Is your child ready to learn before the system is ready to teach?
PHD @ Scholars' Hall
(Providing HeadStart Development)
a liberal arts education beginning
and continuing from JK through Grade 2
Every Day is Open House – Come for a Visit
Qualified Caring Teachers – Small, Limited Classes Size
We have hand picked our teachers not merely for their teaching qualifications but also because they have natural parenting aptitudes and qualities. With our classes significantly size smaller than the publicly funded systems, these wonderful teachers are able to know and care for each child as if they were their own.
Nurturing Environment – Strong Family Values
Scholars' Hall is a warm, welcoming and safe place for young children to experience the Joy of Learning. Respect, honesty, kindness, and understanding are all combined with the development of a life-long work ethic, positive interactional skills and personal confidence.
Full Days, Everyday, 10, 11 or 12 months a year Schooling
Our PHD Program is an every day, all day, program where parents have the option of 10 months, 11 months, or 12 months of schooling. There are no professional development days, no Christmas Holidays, no March Breaks and no summer holidays. Our teachers are here at Scholars' every day except Saturdays, Sundays and Statuary Holidays. Families can take their vacations when it is convenient for them and can stay on holiday as fits their work schedule. When you return, Scholars' will get your child back to speed with the other children in our P.H.D. Program with individual and independent tutorials.
After School Supervision Available
Everyday your child can be actively engaged from 3:30 to your pick-up (by 5:29) so you do not have to worry or rush or change your work day.
Register your child today or reserve his or her spot now for the future.
P.H.D. Program Registration
Contact Scholars' Hall
519-888-6620
Grade School
More
Small classes can make a BIG difference !
Today's Students acquiring knowledge, skills, a work ethic and character to become Tomorrow's Leaders
Students in Grades 1 to 8
learning to set, meet and exceed personal standards
Small Classes, increased Instructional time
We hand pick our teachers not merely for their teaching qualifications but also because they have natural aptitudes and qualities. With our Scholars' classes half the size of the publicly funded systems, teachers are able to have performance expectations appropriate to each student's skill set and academic ability. Scholars' teachers can then expect and challenge each student to perform up to his/her own ability not just to a provincial standard.
Nurturing Environment, Strong Family Values
Scholars' Hall is a warm, welcoming and safe place for children to experience the Joy of Learning. Respect, honesty, kindness and understanding are all combined with the development of a life-long work ethic, positive interactive skills and personal confidence. A common sense, age referenced, Code of Behaviour, with little tolerance for inappropriate behaviour is consistently enforced at Scholars' Hall.
Lower School Leadership Program
"Leadership is doing what is right, even when no one is looking"
Our Lower School Leadership Program is based upon The Seven Habits of Highly Effective People" and "The Leader In Me" developed by Dr. Stephen Covey. It is more than just philosophy. It is embedding the principles of leadership into daily classroom life, lessons, school activities, bulletin boards and developing an attitude within each student and teacher. Our Leadership Program is established within the classroom through simple ways such as leadership notebooks (where students keep track of their personal and academic goals), group activities and artwork and once a week classes gather to take part in "Leadership Time". This special time each week is set aside with the sole purpose to build upon the "7 Habits" and strengthen our students' practical skills such as cooperation, self-confidence, problem solving skills and learning to learn from our mistakes. These are skills that go well beyond academia. By providing opportunities to utilize individual strengths and talents, students realize they have greatness within themselves and begin to believe that they can do well in other areas of life. Our Lower School Leadership Program takes place formally on Wednesday afternoons from 2:30-3:30. During this time students are instructed on the "7 Habits". This is the foundation that will be built upon as students move through the program and be the base for all leadership learning. After the "7 Habits" are taught within the classroom students will have an opportunity to utilize what they have learned and work as a team. Events such as Science Fairs, Art Galas, Winter Balls, building a new library for our school and a garden are some of the ideas the students have come up with to showcase their learning. In addition, students will have opportunities to showcase their learning through Leadership Days that will occur once a month. Weekly, our senior elementary students recognize the leadership accomplishments of our younger students at an Achievement Assembly. This assembly honours a student's greatness and talents and their contribution as part of a team to create a superior school environment.
Education, it's not your job, it's Ours
There are no PD days, no extra holidays, and an extra 1/2 hour of instruction every day, at Scholars' Hall. We teach every day. We give and check homework every day. Homework is not done in class. Friday's are "stay-till-it's-done" day. If it is not done up to a student's personal performance standard, it gets done again!
High School
More
When your son or daughter applies to University or College, which response will they receive ?
(a) accepted at first choice;
(b) accepted at second choice;
(c) accepted at third choice;
(d) accepted at all the above:
(e) accepted at none of the above.
At Scholars' Hall, most often, the answer is (d)*, because . . .
Scholars' Hall is a university, Tri-Semester high school with classes half the size of the publicly funded schools.
Three semesters – Fall Semester (September to December) – Winter Semester (January to April) – Spring Semester (May/June)
In Grade 9 and 10, students must now begin to master the basic academic skills. A student must begin to develop excellent written skills; acquire the ability to think independently; develop a personal work ethic; learn to be focused and practice a daily commitment to high achievement. Very few grade 9 students own these skills and abilities. At Scholars' Hall the learning process of "putting it all together" begins in Grade 9 with every student involved in our Leadership Program.
Grade 9's and 10's will earn four credits in the Fall Semester and four credits in the Winter Semester and one credit in the first half (May/June) of the Summer Semester. Grade 9 and 10 students will earn 1 more credit than students in the publicly funded system. In May and June, students will also re-visit their Math and English curriculum to ensure that they are prepared for the following year.
Scholars' Grade 9's and 10's will be well prepared for the Ontario Literacy Test in Grade 10 and they will be well prepared to "go for the marks" in Grade 11 and 12.
Grade 11 and 12 students at Scholars' Hall will be able to accelerate their earning of credits. Students can earn all 8 credits between September and April. The Spring Semester (May and June) is optional and grade 11 and 12 students can earn 1 or 2 more credits. For some students, this means early graduation. For others, it means that they have the opportunity to increase their marks for university acceptance.
At Scholars' Hall Private High School we offer:
A wide variety of courses of study, including Philosophy.
Excellent teachers who are there to teach and who are always available for extra help.
Small classes mean more time for the teacher to directly interact with each student. Curriculum content will be taught in more depth and each student will have a greater knowledge and understanding which will result in higher marks.
Each student receives a great amount of help and guidance from some of the finest teachers ever to prepare students for post-secondary success.
With such a small class, Scholars' teachers are able to give individual and in-depth instruction, constant and consistent daily feedback and motivation to maximize individual performance and effort.
At this level, our teachers become personal tutors, mentors and advisors.
Scholars' grads will not be forced to "compete for a seat" only in September because Scholars' grads will be able to enter college or university in January and May when every other high school student is still finishing their 5-month semesters.
Our graduating students understand that not only must they compete for their place in the university or college of their first choice, they earn it!
Since its inception in 1997, Scholars' Hall's graduates have have enjoyed an exceptional rate of acceptance into a University or College of their choice.
BUT, more importantly, Scholars' grads, after acceptance continue to excel in their post-secondary school at a level equal to or greater than they earned in grade 12 at Scholars' Hall
* Scholars' Hall has no influence with any post-secondary institution and individual decisions of acceptance. All post-secondary applicants are accepted based upon that institution's yearly program admission criteria and the number of total submissions to each post-secondary course of study and/or program.

Scholars' Hall is the first high school in Canada to be affiliated with a post-secondary institution. Scholars' Hall is proud to be affiliated with Conestoga College Institute of Technology and Advanced Learning. Conestoga College is a leader in polytechnic education, offering university recognized Bachelor's degrees.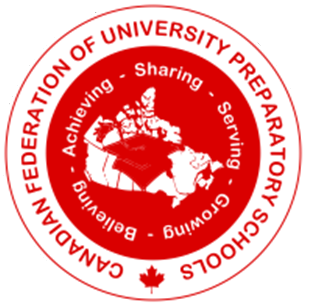 Scholars' Hall is a founding Member of the Board of Canadian Federation of University Preparatory Schools
High school registrations for all grades at Scholars' Hall are accepted prior to each semester – August, December and April. Places are limited. Please contact the school at 519-888-6620 or Director@ScholarsHall.com
Scholars' Leadership Program
(Grades 7-12)
Employers today want students who have a balance of soft and hard skills. Hard skills are job specific: math, reading, comprehension, computer key boarding. Soft skills or employment skills are: communication, problem solving, positive attitudes / behaviours, adaptability and ability to work with others. Increasingly, employers are looking for soft skill over the hard skills,
In other high schools only a few students become involved and have the opportunity to learn these soft skills.
At Scholars' Hall all students are taught soft skills. All students will be a member of a committee where events are planned, communication and teamwork are taught, positive behaviours and attitudes are expected and adaptability becomes second nature.
All committees are student run and organized, with a staff advisor present to provide assistance. Students plan school-wide events, prioritize and delegate responsibilities, discuss goals and outcomes, and learn to assess potential difficulties.
The Leadership Program (based upon the 7 Habits of Highly Effective People) increases student participation to 100% and reduces student apathy to 0%.
Want to know more about our Leadership Program?
Full Year Schooling
More
Full Year Schooling for JK, SK, Grades 1 and 2 has been offered at Scholars' Hall since 2001. In September 2009, Scholars' Hall introduced the full year option to its students in Grades 3 to 6.
Beginning September 2012 Scholars' Hall adjusted its high school year to match the university academic calendar: 1st semester, September to December; 2nd semester, January to April; 3rd semester, May to August. Each semester will allow students to earn a maximum of 4 credits. Semester 3 will be split into 3A and 3B in each of which 2 or more credits can be earned. 
Come and Continue to Learn while Others Forget !
The traditional school year was first implemented to allow the school children to work on the farm during the growing months. These children of 150 years ago would be busy from sun-up to sun-down with chores around the farm.
No longer is such a school year needed. With 10 weeks, off school, every July and August parents must plan and schedule their children's time in camps and other activities. These same children need a number of weeks upon returning to school for review and to re-establish previously learned skills.
Scholars' Hall has, once again taken leadership in the educational field, introduced a school year which allows parents and students a great deal of flexibility.
At the elementary level, it is a combination of the traditional school year (September to June) plus the option to have children continue learning, at Scholars', all of July and August. This is a huge increase in a child's instructional time each year.
At the high school level, it allows students to fast-track (earning 4 credits every four months rather that taking five months in the public system). Scholars' grads will have a huge advantage because they will be able to be admitted to university at two additional times of entry, January and May while all of the public school students must compete with each other for limited spots each September.
This full-year schooling option allows every family to make their own decision regarding attendance in July and/or August as best suits their own plans. Some parents may keep their child at home for the summer; some parents may take their children on an extended visit to family and relatives in their home country for the summer; while some parents must continue work and will want their child to continue in the excellent learning environment at Scholars' knowing that they have the flexibility to take their family vacation when ever is best suited for them.
The educational advantage is enormous and allows each child to progress well beyond any level they would be achieving in the publicly funded system.
The parent's advantage is equally as great. Parents need not struggle to arrange activities, camps and sitters for the summer. The whole year remains the same. There is no disruption to the family's daily routines.
A century ago, parents told educators that their children would not be in school because they were needed at home. Today, parents are telling the educators that there is no longer any reason why children should be at home and not be in school for 12 months instead of only eight and a half months a year. Now more than ever, our children need better than a century old education. Without an education equal to the children of China, Japan, Korea and many other countries, our children will be hard pressed to compete on a global basis.
Scholars' Hall is listening to today's parents and educating children for tomorrow's reality
Tutoring Programs
More
Tutoring Programs
Extra Help Club
This club is designed for students in grades 1 to 8
who need structured spelling instruction
who are not being taught grammar and formal writing skills
who need practice in basic arithmetic facts and times tables
who could use a boost in academic self esteem
Enrichment Club
This club is designed for students in grades 1 to 6
who would benefit from an accelerated program in reading, writing, and mathematics
who need to be challenged academically
who learn at a faster rate than the average student
who enjoy learning
Junior Homework Club
For students in grade 7, 8, and 9
who are getting homework but have not developed good homework habits
who are not doing their homework consistently, or not at all
who are unorganized
who are having difficulty with studying for tests and examinations
who need a structured learning environment
whose parents are tired of the nightly homework hassle
This club meets every Monday, Tuesday, Wednesday, and Thursday evenings – flexible attendance starting at 2 times per week up to 4 times per week.
Senior Homework Club 
For students in grades 10, 11, and 12
who need a structured learning environment which is quiet and free from distractions
who are rushing through their homework or who leave it to the last minute
who want to get that extra 10% for University/College admissions
who want to maintain their present high level of production and performance
This club meets every Monday, Tuesday, Wednesday, and Thursday evenings – flexible attendance starting at 2 times per week up to 4 times per week.
Extra Help Club (EHC) and Homework Club (HWC) Pricing 2017/2018
| | | | | | | |
| --- | --- | --- | --- | --- | --- | --- |
| Months | EHC 2x/wk | EHC 4x/wk | EHC Saturday | HWC 4x/wk | HWC 3x/wk | HWC 2x/wk |
| 10 | $1520 | $2430 | $1170 | $2020 | $1620 | $1220 |
| 9 | $1470 | $2400 | $1155 | $2010 | $1605 | $1200 |
| 8 | $1400 | $2330 | $1120 | $1960 | $1560 | $1160 |
| 7 | $1310 | $2220 | $1065 | $1870 | $1485 | $1100 |
| 6 | $1200 | $2070 | $990 | $1740 | $1380 | $1020 |
| 5 | $1070 | $1880 | $895 | $1570 | $1245 | $920 |
| 4 | $920 | $1650 | $780 | $1360 | $1080 | $800 |
| 3 | $750 | $1380 | $630 | $1110 | $885 | $660 |
Summer School
Registration is currently closed. Stay tuned for our Summer 2018 program details!
More
Continue To Learn While Others Forget
Summer School
JK, SK, and Grades 1, 2, 3, 4, 5, 6, 7 and 8
Bring in the registration and payment before May 29th, 2017 for an early payment discount
get an educational advantage over other students
provide a private school education without a full year tuition
benefit from an academic advantage in the coming new school year
eliminate scheduling camps/activities/daycare for the summer months
provide needed summer structure
eliminates getting bored and not knowing what to do with themselves
keep skills rather than getting rusty over the summer
never again need the month of September to get back into the routines of learning
children with birthdays later in the year gain a huge academic advantage
makes the transition into the next grade easier because of a better academic foundation
strengthen basic skills – Reading, Writing, and Mathematics
get a good dose of academic self confidence
Parents may register for Scholars' Hall Summer School any time after January 1, 2017. The Scholars' Hall Summer School experience can be as little as three weeks or as much as seven weeks.
from July 4th, 2017 to August 25th, 2017
Regular Tuition is $300 per week
Early registration by May 29th, 2017 $270 per week
Number of available seats is limited.
Early registration is recommended.
Register at director@sjsh.ca OR principal@sjsh.ca
Please indicate when you want your child to start and the number of weeks he/she will be attending. Also provide your child's full name, date-of-birth, present grade, home address and both home and work telephone number. Thank you.
Tuition is non-refundable as of registration.
Minimum registration is 3 weeks.
All weeks registered must be consecutive.
No reduction of tuition for attendance less than registration.
Our instructional day is 8:30 am to 3:30 pm, Monday to Friday. After school supervision is available till 5:30 each day at an additional fee of $25/week. Students will receive Ontario curriculum instruction appropriate to or greater than grade level just completed. Students will be grouped in classes according to academic skill/grade performance levels. Homework will be given daily. Tests will be given weekly. Report cards will be issued at the end of the registration. Student progress updates are made as parents require.
All students attending will be required to adhere to the Scholars' Hall Code of Behaviour and Teachabilty. Non adherence to the Scholars' Hall Code of Behaviour and Teachability will result in removal from the balance of the program with no refund of tuition.